The Difference Between Watching and Seeing
Welcome to the Overflow!  Whether you're an old friend or a new one, I hope you'll linger here where faith is spilled and souls are filled. If you like what you find and you'd welcome a trickle of inspiration in your inbox now and then, feel free to subscribe to my blog and I'll send you a splash of encouragement every once in a while. (You'll find a subscription box on the top right sidebar on my home page.) Or, if you'd rather, we can stay connected on Facebook or Twitter.
Of course, my favorite way to connect is the old fashioned way—face to face so I can see your smile.  I'm scheduling speaking engagements for the 2017/2018 school year, and I'd be delighted to bring a message of encouragement to a ministry event near you! (Contact me at overflow@aliciabruxvoort.net if you'd like to explore the possibility of partnering in ministry in the year to come.)
Speaking of encouragement, I'm over at Proverbs 31  today telling a tale about a street corner, a woman with a cardboard sign, and the power of being seen. If you haven't had a chance to read it, you can find it here. But before you go, I'd love to tell you what I've been learning about paying attention and partnering with Jesus.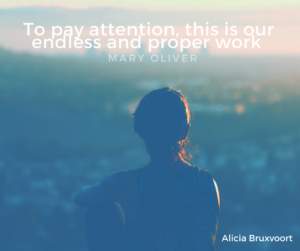 "See me, Mommy! See me!" Her sing-song voice mingled with the sunbeams and floated through the hot summer air. Her stubby little legs stood bravely at the top of the brightly-colored play equipment and she squatted low as she prepared to soar down the bumpy purple slide.
I acknowledged my toddler with a wave from my station at the bottom of the slide. Then, I  gave her an exaggerated nod and pointed to my wide-open eyes, so she would know I was watching.
"I see you," I said as I stretched out my arms in ready-position to catch my youngest one's flying frame.
The child at the top of the slide wasn't the first to demand my eyes. Having had four toddlers before this strong-spirited last-born, I'd had plenty of practice in the fine art of fixing my sights on little ones.
In fact, as soon as my kids began to talk, they all seemed to acquire a love for that small phrase that beckoned my gaze and begged for my praise:"Watch me!"
"Mommy, watch me!" my sons would holler as they raced like lightning across the yard or proudly pedaled their training-wheeled bikes down the driveway.
"Mommy, watch me!" my daughters would plead as they twirled in pirouettes around the room or somersaulted across the lawn.
"Mommy, watch me!" my daredevils would cry as they dangled from the monkey bars, shimmied up a tree limb or leaped from the couch with arms spread wide.
But our last and littlest girl didn't echo her siblings' lingo.
She didn't just want me to watch; she wanted me to see.
"See me, Mommy!" she would shout in a tone that carried both invitation and declaration all at the same time. "See me!"
In that sleep-deprived, please-help-me-to-survive season of motherhood when five kids clamored for my attention every moment of every day, I would have argued that my youngest one's quirky plea was no different than that of the others'. And that her unusual choice of words was a mere matter of linguistics.
"See me, Mommy! See me."
But looking back on it now, I think my daughter knew exactly what she was asking.
She wasn't just asking to be noticed. She wanted to be acknowledged. She wasn't just asking for my eyes; she wanted my heart.
This "see me" girl is the baby of five, planted in a house swelling with chaos and noise. And when this youngest one of mine could finally put voice to her wishes, she didn't just want me to stare; she wanted me to be aware.
I may not have understood it then, but I know now that there is a distinct difference between watching and seeing.
We may be able to watch without engaging our hearts but we cannot truly see without engaging our souls.
If I merely look at you, I may notice what you are, but if I choose to truly see you, I must acknowledge who you are.
Jesus knew this. And I want to remember it, too.
To really see someone means I'm not just offering a glance; I'm extending a gift—
The gift of my time and my attention, the gift of my consideration and my care.
The poet Mary Oliver may have said it– "To pay attention, this is our endless and proper work"–
But our Savior actually lived it.